Showcasing Tranzfuser Graduate Game Dev Talent
Vote for your favourite game before the site closes on Thursday 1st October, 12pm noon.
Welcome to ProtoPlay, the online showcase for the Tranzfuser 2020 teams!
Here you'll find details of each of the 27 graduate game development teams, all based right across the UK. You'll get a unique insight into their team dynamic, what taking part in Tranzfuser has been like for them and – of course – the much-anticipated games!
In case you're new to Tranzfuser, let us give you a quick overview of what the competition entails; over the summer our graduate teams have been working remotely on the development of their own-IP game to produce a working prototype. Each has benefited from the wealth of learning materials taking part in the Tranzfuser competition gives them access to, alongside the tailor-made community support they've received in the shape of our network of Tranzfuser Facilitators (made up of members of past UK Games Fund supported companies) and their own Local Hub*.
*Local Hubs are bases at which Tranzfuser teams would, in a typical year, be able to come together to work on their project and take part in any support activity set up by the Hub. This year, this has been done remotely but the Local Hubs have been as important a part of the Tranzfuser competition as ever.
The winners of this year's competition will be invited to join the UK Games Fund portfolio of funded companies to further develop their project commercially.
Where can I play the games?
Many teams have linked to their Itch.io page where you, as a player, can download their game. If that doesn't work for you, don't worry! We're teaming up with our UK Games Fund Streaming Team to showcase the teams and games in a live and interactive way in ProtoPlay Live on Friday 25th – Sunday 27th September. Join us over on Twitch then!
Once you've played the games, get voting for your favourite to receive the ProtoPlay Audience Award!
Subscribe to the UKGF Newsletter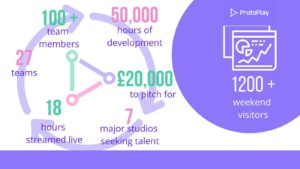 As the clock ticks now, let's take a look back at some of the stats from this year's Tranzfuser and ProtoPlay.
Read More »
It's hard to believe, but we're almost the end of July!Our Enterprise teams have been busy BTS working on their projects as we fast approach August...what will be a busy month!Find out more about the teams and their incredibly exciting projects here: bit.ly/3hSFGQb
The talented Tranzfuser 2020 teams, and details of their eagerly awaited games, can be found on the Teams Page – check it out!
We have worked with the expert team at Games Jobs Live to run our own GJL: Exclusive ProtoPlay Edition.
We have over 120 individuals participating in Tranzfuser in various roles and in varied locations. As there can only be a small number of individuals that will be part of the Tranzfuser competition winners, we have set up an exclusive careers event.
We want to help as many of these talented games developers kickstart their professional career as possible, so with that in mind we are bringing companies looking to recruit to the teams. 
This was a closed event for Tranzfuser teams and invited games development studios only.