It's hard to believe that we're fast approaching the close of ProtoPlay 2020. In our first year of running a digital showcase, we – and the Tranzfuser teams – didn't quite know what to expect. This year's competition has, to put it mildly, been a little different. Yes, everything that we would normally love to do face to face (actually meet the teams!) has moved online. But with adversity, comes opportunity.
2020 has seen Tranzfuser act not only as a platform for entrepreneurial games developers looking to kick-start their studio, but so too for those grads that are keen to get a start in the games industry. Over the summer months, and more recently the past few days of ProtoPlay, we've seen the teams, individuals and games grow and evolve to what you see before you today.
As the clock ticks now, let's take a look back at some of the stats from this year's Tranzfuser and ProtoPlay.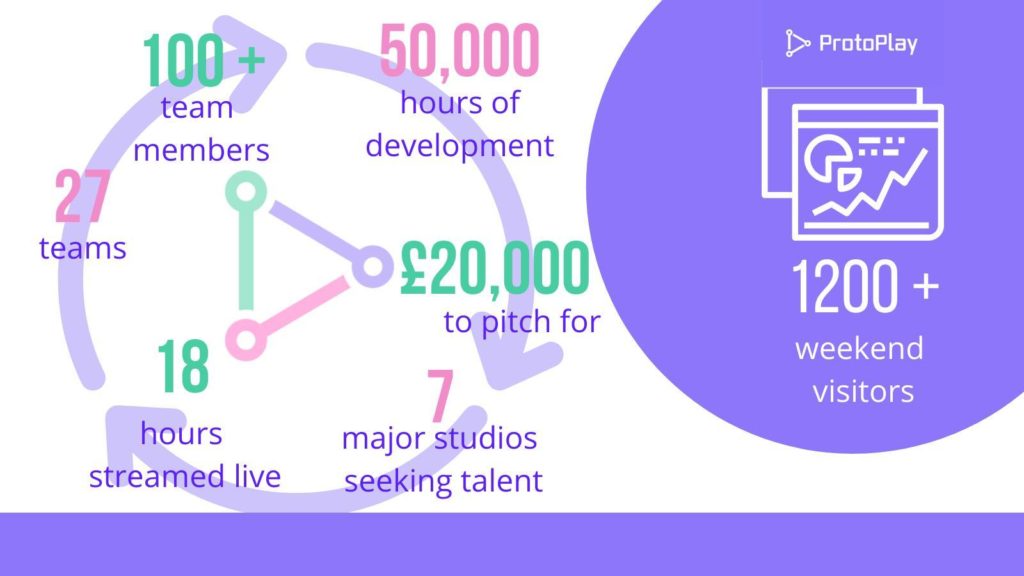 To all Tranzfuser 2020 teams, whatever path you may choose in the coming months and years ahead, let us take this opportunity to say how proud we are of all of your hard work over the competition. You've helped guide us in navigating this unchartered territory and we hope you have all benefitted from taking part.
One last thing…we couldn't not share this pretty awesome quote from one of the teams.
"Tranzfuser 2020 has been a great opportunity and our team thank you again for looking after us during the summer and for putting on such a well-delivered showcase despite the circumstances. Deborah, you and the rest of the team at UK Games Talent and Finance Community Interest Company have knocked it out of the park!"